Name: Otter Creek Vermont Lager
Brewery: Otter Creek Brewing (Middlebury, Vermont, USA)
Style: German-style Pilsner
ABV: 5.0%
Review number: 1
My score: 3.5 / 5.0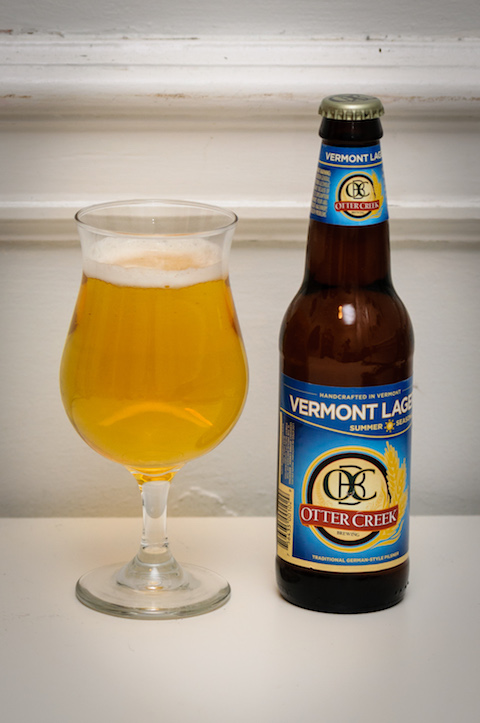 This is the first of many beers (being in Boston right now, mostly American beers) I intend to review. Note that this is mainly intended to Future Me and you -- if someone ever reads these posts -- might completely disagree with me.
I spent way too much time taking a picture of this beer in a glass, I even managed to cause an accident involving my beloved and incredibly heavy camera, a laptop and a significant fall, but I eventually managed to drink this beer (for the first time, by the way). Here is what I thought of it.
Appearance
The Vermont Lager has a clear -- but not crystal clear -- golden color. The color itself shows that the beer is going to be light and refreshing. Something that surprised me: even when pouring it carefully, it was foamy!
Taste
The first sip of the Vermont Lager shows no bitterness but some slight sweetness. After at second sip, I can note that the beer is actually slightly hoppy. Not too much, but I can feel it and appreciate it. I would not if it was hoppier.
This beer has little taste but a clean feeling. It is pretty mild with no specific character but still enjoyable.
Mouthfeel
The Vermont Lager is light and thin, smooth, refreshing. It is not flat but not very carbonated either.
Overall
The Vermont Lager is the kind of beer I can enjoy during the summer without the feeling of drinking a cheap light commercial beer. I would still prefer a strong ale during a dinner for example, but I still liked it.
---